Click To Zoom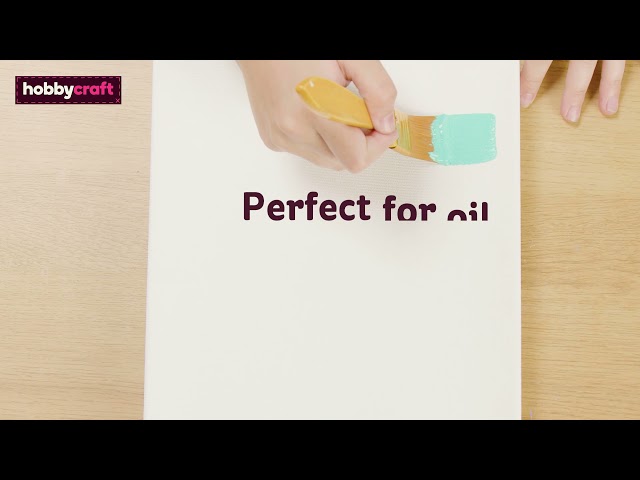 Box Canvas 76.2cm x 50.8cm
Box Canvas 76.2cm x 50.8cm
Make every work of art stand out with this Box Canvas.
This canvas is perfect for use with oil and acrylic paints, without having to worry about sinking or shrinkage. The canvas is acid free and has a medium grain. It is back-stapled to a sturdy wooden frame, with corner wedges for additional support. A quality white canvas of 380gsm, this will be ideal for student artists.
The box canvas style, with added depth, will lift your artistic projects off the wall when it comes to displaying them. This will ensure that, whatever your design, it will stand out within your home – or wherever you choose to display it.
Due to the shape of the box canvas the sides are wide enough to paint the edges allowing you to create elegant panoramic pictures.
Please note: Packaging might vary from the image.
Size: 76.2 x 50.8cm(30 x 20 inches)
Depth: 4cm (1.6 inches)
Triple primed with gesso
380gsm
Vegan friendly
100% unbleached cotton
Includes corner wedges
Acid free
Added depth for stand-out display
Perfect for oil and acrylic paintings
Box Canvas 76.2 x 50.8cm
Product Number - 5612701000
Rated

5

out of

5
by
Elise08
from
Excellent canvas
I'm an artist and usually I get my canvasses from an art supplies shop but these were on offer so I thought i'd try them. I sell my work so it's important that the canvas is good quality and doesn't have any bumps or marks. These were great to paint on, had no blemishes or bumps and most importantly look good for my customers
Date published: 2018-07-02
Rated

5

out of

5
by
Bobby76
from
Box canvas and brushes
Never wrote a review before but might as well let you all know, I've been buying box canvas for about 3+ years and can't fault them but yes prices are creeping up like everything else , never had any problems with them , still great quality and for the brushes if you can get ones that nobody's tampered with in store they have been great too , I buy from the Glasgow fort store as I feel better seeing what I'm looking for and if any problems the staff in there are always happy to help.
Date published: 2019-01-20
Rated

1

out of

5
by
JosieT
from
Decent canvas but Twisted frame
Sadly I did not notice until starting work on this canvas that the frame was twisted so it will not hang flat on the wall. Check your canvas carefully before unwrapping.
Date published: 2016-06-25
Rated

5

out of

5
by
Eva04
from
Very sturdy
This product was very sturdy and took to the paint very well and the texture of the canvas was really easy to work with.
Date published: 2020-08-08
Rated

5

out of

5
by
glasgowgal79
from
excellent quality
excellent quality canvas , unlike some cheaper ones ive worked with this is great and will definately be using again
Date published: 2015-10-20
Rated

4

out of

5
by
Cotz60
from
This product is great value for money, good quality of canvas surface helps painting technique
Very pleased with the box canvas. Comparatively cheap and nicely constructed. Would purchase again.
Date published: 2017-04-12
Rated

5

out of

5
by
3weescones
from
Box Canvases
Excellent basic canvases at a very good price. The variety of sizes and qualities is very good.
Date published: 2015-11-06
Rated

5

out of

5
by
Mariesilver
from
Good canvas
Nice canvas, smooth ready to use, nicely packaged, just what I needed for my paintings
Date published: 2020-11-24
Rated

4

out of

5
by
Georgieartist31
from
blank artist canvas
Fantastic canvas lovely quality will buy from you again, great price too! many thanks.
Date published: 2015-11-19
Rated

5

out of

5
by
Owls49
from
Brilliant canvas
Bought this product exceptional value for money ideal for what I wanted
Date published: 2019-10-01
Rated

4

out of

5
by
linda45
from
good
i am painting in oil on this canvas and it gives a very good finish
Date published: 2015-10-24
Rated

5

out of

5
by
Walkies2019
from
Good value canvas
Just right for my son's GCSE art project, a good quality item.
Date published: 2019-12-05
Rated

5

out of

5
by
Mozart
from
Excellent quality.
As I reside in Northern Ireland, I normally pay extra for delivery. But this product surpasses anything similar I could purchase locally. So obviously the value for money makes it worth buying on line, but that is not enough to seal the deal...The quality of these block canvases , is unsurpassed and as well as the strength and rigidity of the wooden frame, the surface is a joy to paint on. Not my first purchase from this range and will certainly not be my last.
Date published: 2017-09-23
Rated

5

out of

5
by
Amberness
from
Easy to work with.
Canvas you obviously pick to the size you want. However, the type of material of canvas and kind is different. This canvas i find to do just the job! They are always on offer, a decent price even when they are not. The leaflet on the front tells you what paint that type of canvas works best with and if you do use what it suggests you will find the paint applies to it incredibly well! Would 110% buy again and recommend!!!
Date published: 2018-08-06
Rated

5

out of

5
by
Greenslade
from
3rd year Fine Art student at Falmouth.
I regularly visit the Truro store for artist materials .The staff are knowledgeable and extremely helpful,often taking me to the exact spot to find what i`m looking for.I shall be starting my last year in September and although we have some stock of art materials there is just not the range for art,craft and day to day materials.It`s brilliant and there`s plenty of parking ;essential when carrying canvases etc.
Date published: 2020-07-09
Rated

5

out of

5
by
StudioMia
from
Great quality and value for money
Enjoy using hobby craft canvases the most! Really good quality considering the great value for money that you can't really find anywhere else. They have a great range of sizes and almost always have a 3 for 2 deal available. They deliver quite promptly which is a plus for me seeing as I don't live locally to my nearest branch. Would recommend if you are a small business always on the go with painting.
Date published: 2021-12-03
Rated

5

out of

5
by
CraftyFran63
from
Great product
I didn't go into the store specifically to buy this canvas, but I had been looking for one this size. I have started a project to be given as a wedding gift and been looking for a canvas this size. Although other places stock them they have been expensive. This one was on offer in Hobbycraft and perfect for what I needed. It is well made, large size, and at a good price. I am so glad I went in that day
Date published: 2021-06-24
Rated

5

out of

5
by
LeighO
from
Thank goodness for Hobbcraft
I had a quandary, we had received a canvas without the frame to display it on, and the shape and size of the artwork was so unusual. I found the diy frame sites confusing so I popped to my local Hobbycraft and found that if I put two plain canvas frames together it would make my unusual shape. Well done HB for providing a range of canvas shapes that helped me make a wonderful display.
Date published: 2019-11-16
Rated

5

out of

5
by
RAPLEASANTS
from
It's great Canvas the weave id very tight and allows for detailed work
I've always looked at budget canvases as underestimated and this is totally. It has every thing you want and for a novice it really rarely needs stretching. It's primed and to go and makes the working surface even better to work on. It's suitable for all kinds paint medium and techniques. You will hardly notice the difference in quality to a professional Box canvas.
Date published: 2017-09-04
Rated

3

out of

5
by
wipeout
from
good half price deal
I ordered 6 and they arrived in good time. All came unmaked or undamaged. However, only one of the six wasn't warped. This means those five will not hang flat against a wall. Also, some were not constructed square (90° corners). Therefore, in my opinion, these flaws make the, otherwise decent, product worth no more than £6.
Date published: 2015-12-11
Rated

5

out of

5
by
TraineeMum
from
Love it
I've only painted on multi-media paper before so am not comparing apples with apples, but I can't believe how much nicer and easier it is to paint onto this canvas. The paint moves so much better and doesn't sink in the same (I use acrylic) so less paint required too. I'll definitely be buying more.
Date published: 2015-11-09
Rated

5

out of

5
by
Janesart
from
Canvases
Always happy with my canvases from Hobbycraft buying in bulk and the option of 'click and collect' during this difficult time of Covid. Allowing me to continue with my art and replenish stocks of canvases, paints and mediums when needed. Making life in lockdown a little easier. Thanks Hobbycraft x
Date published: 2020-11-23
Rated

5

out of

5
by
Acrylic
from
Such good quality
I have been buying from hobbycraft for almost a year now. My purchases have been such good quality. I do acrylic pouring so always buying paints, canvasses, pouring mediums etc. On the very odd occasion if I had a problem your customer service team are excellent and sorted things out immediately.
Date published: 2021-06-27
Rated

3

out of

5
by
Seg298
from
Good frames and canvas but one problem
The canvases which I bought seem like lovely quality but unfortunately when I opened one to start painting it became obvious that the stretcher pegs were way too small for the holes in the joints of the frames. I needed to get on so will try and make my own pegs out of thicker wood if required.
Date published: 2018-02-15
Rated

5

out of

5
by
DarkArtNorfolk
from
One of the best heavy weight canvases
The two I bought are the latest of ten canvases I've purchasing this series. I'm yet to paint on the massive 100x150cm one and. Any wait to start it now I'm co confident it will easily hold my oils. Only draw back is the corners aren't neatly folded on the odd one. Please check before buying!
Date published: 2021-07-04
Rated

5

out of

5
by
deb149
from
quality affordable product
I specifically needed this product and found it very easily in store. Products were plentiful in store and very comparable in price to other suppliers. the product was very good quality and affordable. I have since purchased more and have receommended to others interested in this type of item.
Date published: 2020-12-22
Rated

4

out of

5
by
ConJ1008
from
Great quality
This canvas is such good quality for such a reasonable price, I used acrylic paint on it. It's very sturdy and pre primed which is a great time saver. It's thickness is great for creating a different depth to your art. Definitely will be purchasing this again. And the range of sizes is great.
Date published: 2020-10-09
Rated

5

out of

5
by
AreljayArtworx
from
Premium Quality Superb Results
All HobbyCraft canvases whatever the size and the artist's medium, are of superb quality and value (especially in a sale or with membership discount...)! My experience as a valued artist is these canvases will do justice to anyone's personal piece of creativity...
Date published: 2018-02-15
Rated

4

out of

5
by
DebsSG
from
Nice size at a bargain price
This is a great size box canvas with nicely bevelled batons which minimise the effect of frame lines in your painting, allowing the brushwork to remain unhindered by the canvass's underlying structure. At this price I will definitely be investing in more.
Date published: 2018-09-18
Rated

4

out of

5
by
VonnieM
from
Second canvas I have bought
I bought a second canvas, the first I bought was on offer at £8, which I thought was excellent value. I had to pay £16 for this one, still good value. I will use it with watercolours, which works well, even though suggested use is for acrylics or oil.
Date published: 2021-12-14
bvseo_sdk, dw_cartridge, 18.2.0, p_sdk_3.2.0
CLOUD, getReviews, 11ms
reviews, product