Click To Zoom
Click To Zoom
Click To Zoom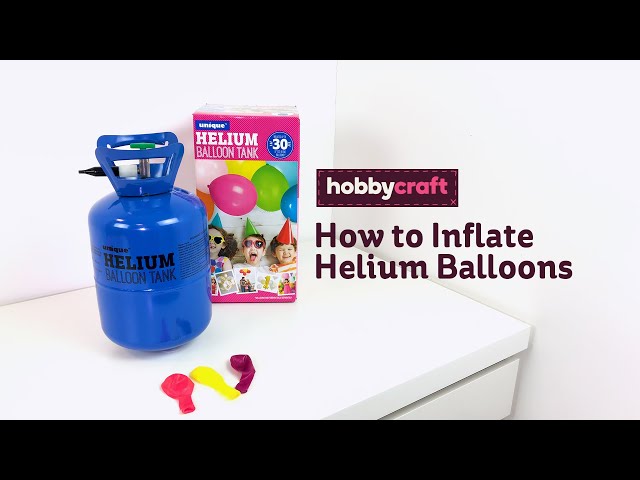 Helium 50 Balloon Canister
Age restricted
Helium 50 Balloon Canister
The law prohibits the sale of sharp instruments, glues and solvents to anyone under the age of 18 and the sale of aerosols to anyone under the age of 16. By purchasing this item you confirm you are the legal age and agree with our T&C's.
The Helium Balloon Canister is perfect for blowing up balloons for any event! Create spectacular helium balloon bouquets by mixing both foil and latex balloons along with curling ribbon and balloon weights to produce eye-catching party decorations or table centrepieces at your next celebration.
Estimated capacity:
| Balloon size | No. of balloons |
| --- | --- |
| 9-inch | Up to 50 |
| 10-inch | Up to 40 |
| 11-inch | Up to 25 |
| 18-inch | Up to 20 |
For best results inflate your balloon one to two hours before your party starts.
The float time for latex balloons is five to seven hours on average, while foil balloons are likely to last noticeably longer. Float time can vary significantly based on the level of inflation, size of your balloon and external factors such as temperature and altitude.
The lightweight, disposable helium-filled tank features an easy-to-use nozzle and carry handles to transport it easily. It also comes with a cardboard balloon sizer and inflation instructions to allow for safe balloon inflation. When empty, the disposable helium tank can be easily placed in your household recyclable waste.
For more informationon using your helium canister, visit our HeliumBalloons page.
Please note: The bigger your balloon size, the fewer balloons you will be able to fill.
Size: 43 x 25cm (16.9 x 9.8 inches)
Inflates up to 50 9-inch latex balloons, 40 10-inch latex balloons, 25 11-inch latex balloons or 20 18-inch foil balloons
0.41 cubic metres of helium
Simple to use and easy to dispose of
Perfect for inflating balloons to decorate birthdays, weddings and more
Helium 50 Balloon Canister
Product Number - 6518071000
Rated

1

out of

5
by
k188
from
Over priced and doesn't do the job properly
Expensive and all the balloons deflated within an hour....
Date published: 2021-03-12
Rated

3

out of

5
by
Kiel21
from
Could be better
Purchased this item for a birthday party. I was helped inside store by a lovely lady, very helpful. Unfortunately I was unaware a spanner was needed to tighten adopter. The adopter doesn't work unless fully tight. With time on my side I had to use without and a lot of gas wasted. A spanner could be supplied or a push in adopter.
Date published: 2021-09-05
Rated

5

out of

5
by
DivvyD
from
Birthday fun
A great size & price for this canister of helium. We were able to fill so many balloons just to make this lockdown birthday special. Easy to pick up from store & use. I shall be getting future canisters for other parties from here.
Date published: 2021-03-24
Rated

5

out of

5
by
DinDinDin
from
Excellent value & it works!
Did very large numbers 2 & 1 and all letters HAPPY BIRTHDAY (about 35cm tall each) & some gas still left !!
Date published: 2021-12-23
Rated

1

out of

5
by
Rich19
from
Not worth it
States on box fills 30 balloons however only filled 18 and all went down after a day. REALLY NOT WORTH IT
Date published: 2019-10-13
Rated

1

out of

5
by
Sati
from
Only buy if want to do 13 balloons
I brought this and says 30 balloons but only filled 13 -won't buy again.
Date published: 2020-12-08
Rated

1

out of

5
by
Vicrise26
from
Easy but not accurate
Thought this would be perfect for my sons 18th so I had latex and foil balloons but sadly it only filled 12 latex and therefore couldn't fill his foil balloons for his lockdown birthday! So dissatisfied but hobbycraft refunded half the price. Not ideal and does not make up for loss of balloons at the party, but at least they recognised the mistake. I won't buy this ever again.../
Date published: 2020-10-29
Rated

1

out of

5
by
MeganH300191
from
Didn't blow up 2 balloons
Got this to blow up 3 small 18" foil balloons come to do the 3rd and got half way through and it stopped working. The can was empty. Hadn't touched it until the night before my little boys birthday. For the price of £23 I could have paid less at the post office! I just thought it would be handy to have for my 2nd boys birthday which is coming up at the end of the month.
Date published: 2021-03-14
Rated

1

out of

5
by
Niko7777
from
Terrible
The first canister ran out after 7 balloons. Hobbycraft were great and gave me another with no quibble. The second filled the rest but the balloons only stayed up for an hour and then began to drop. I wouldn't buy this product again. However I do think Hobbycraft customer service was excellent. So I will still shop there.
Date published: 2019-07-03
Rated

1

out of

5
by
Jonny2777
from
Dodgy
Turn it 4 times to open up helium release - it did not release - turn nearly blew up the house firing around the kitchen like a missile gone wrong - dodgy product waste of money - instead I nearly turned into a balloon having to blow 30 balloons up with my own air
Date published: 2021-07-20
Rated

5

out of

5
by
18Partytime
from
Simple to use
My daughters 18th birthday was an event I wanted to make special even amidst the covid pandemic. Although pubs and restaurants had reopened we wanted a lively affair with friends and family so decided to decorate our own party tent. The helium canister gave me the ability to display balloons of various shapes and sizes and was VERY simple to use. The overall effect of multiple helium filled balloons gave a REALLY effective look, the exact creation I had in mind! I was very pleased with my purchase!!
Date published: 2020-08-17
Rated

5

out of

5
by
Lei86
from
Easy to use, good price
Perfect for filling balloons of varied sizes and materials. Just the right amount of helium for what I needed for my daughters first birthday to inflate 30 balloons including one large foil balloon. Good price, definitely recommend
Date published: 2021-01-22
Rated

2

out of

5
by
Sharyn44
from
Not as advertised
Brought this for Son 2 birthday party The can is advertised as 30 balloons, it filled 4 small/medium size balloons and ran out!! So shocked and frustrating as i had no time to get another. This is a total waste of money,
Date published: 2021-08-31
Rated

5

out of

5
by
AudiBlondie
from
Helium lasted well in balloons
Have ordered via other online merchants previously for helium during lockdown. This cannister was better value and the helium in foil numbers lasted well over 2 days (they are now not at my house so could be longer!) Inflate as close to use as possible but we had to do them the night before and all foil balloons still well up. Some latex ones had dropped slightly but more likely our tying! Will by again from Hobbycraft rather than other online retailer. Click and collect was quick and easy.
Date published: 2021-03-25
Rated

1

out of

5
by
Cath5056
from
Avoid
This canister only filled two balloon numbers and only one balloon before it ran out. I believe it has already been used. Avoid buying a canister and pay for the shop to fill them. Very disappointed
Date published: 2020-09-30
Rated

2

out of

5
by
Shar79
from
Doesn't inflate as many as stated on box.
Bought this last week, states it will inflate up to 30 balloons. It didn't even come close - we managed 9 balloons and it ran out. Very disappointed- we kept the sizes to the recommended too.
Date published: 2020-10-22
Rated

5

out of

5
by
Jacs11
from
Easy to use, well-priced..... a great product!
Extremely easy to use and very well-priced against other comparable products on the market. I would definitely buy this product again from Hobbycraft in the future. Great value for money!
Date published: 2021-02-05
Rated

3

out of

5
by
Suefitz01
from
Disappointed
This gas bottle claimed to blow 30 balloons but only manager 17 Very disappointed because it was needed for christening balloons with weights and ribbons, which I didn't get to use
Date published: 2019-10-18
Rated

2

out of

5
by
Gsandhu
from
Not as expected
For the most part, this works, however for the biggest latex balloon, it would not float. The ones where it did fill, about 10% had dropped to the floor by the time of the party
Date published: 2022-01-24
Rated

5

out of

5
by
Enn23
from
Does what it says in the box!
Got this to blow up some 1 balloons for my daughter's 1st birthday & they did just that, was able to blow 2 up, then was also able to blow up another 8 normal balloons
Date published: 2020-06-24
Rated

2

out of

5
by
Janjuly
from
Disappointed
I bought 3 helium canisters (50 balloons) we inflated the balloons Monday afternoon by the evening they were deflating , the canisters cost me £105.00 , not happy
Date published: 2021-07-30
Rated

5

out of

5
by
Jessa1987
from
Great product
When you buy these canister always make sure they work but the range put tape on the box to show the canisters haven't been tampered with which is great!
Date published: 2021-02-20
Rated

1

out of

5
by
Ajones975
from
Terrible. Dont buy.
Didnt even last 12 hrs. All balloons deflated. Reslly disappointed, had to go out and buy more balloons ans more helium, so worked out really expensive.
Date published: 2019-10-27
Rated

5

out of

5
by
raylight
from
Helium Balloon Canister
Worked a treat worked as per box information unlike canister purchased from a different outlet which did not as it should less balloons ran out of gas
Date published: 2019-10-12
Rated

3

out of

5
by
EmmaBucks
from
Does not fill 30!
The helium itself is good and lasted nearly two days in our standard size balloons. It blew up 12 standard size balloons. 30 is very misleading!
Date published: 2021-02-20
Rated

5

out of

5
by
Alfie
from
Easy to use
I was great to blow up my own balloons on the day without having to go and try to bring them back home in a car will definitely use again
Date published: 2021-09-03
Rated

5

out of

5
by
AjayLayton
from
Very happy
Very have will the product I got from hobby craft. I have sorted out all my balloons and had more air leftover. Thank you very much.
Date published: 2021-12-02
Rated

5

out of

5
by
Reatk90
from
Helium canister, great product
Product was great and easy to use. Filled 2 foil numbers and a couple of normal balloons, would have got the larger size if I'd known
Date published: 2020-07-05
Rated

5

out of

5
by
RoRo21
from
Inflates balloons, as you'd expect!
Kept my balloons inflated for ages. Can be stored for a good while if you don't use it all in one go, just keep it in a cool place
Date published: 2021-04-05
Rated

1

out of

5
by
Geo87
from
It was empty!
We bought a £25 helium cannister, got home and found out it was empty, tried to call the store no answer. Money down the drain.
Date published: 2021-10-09
bvseo_sdk, dw_cartridge, 18.2.0, p_sdk_3.2.0
CLOUD, getReviews, 7ms
reviews, product