Click To Zoom
Click To Zoom
Click To Zoom
Click To Zoom
Click To Zoom
Click To Zoom
Click To Zoom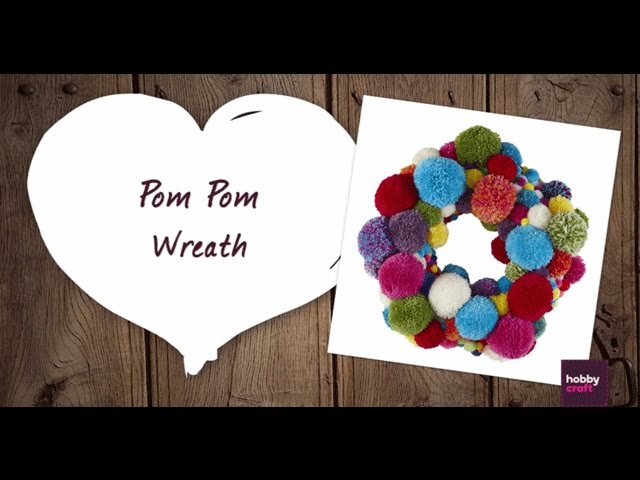 Making pom poms will be faster and easier than ever with these fantastic Pom Pom Makers! Transform your favourite yarn into charming pom poms, ready to embellish and accessorise.
Simply wrap your yarn around the pom pom makers, and then cut and tie off as normal to create your perfect poms. This set includes handy instructions and includes four different sizes of pom pom makers, allowing you to add variation to your designs. The sizes include 3.5cm, 5.5cm, 7cm and 9cm diameters.
Decorate your scarf, your handbag or your woolly hats in style. Simply add a little pom pom power!
Size: 3.5cm (1.4 inches), 5.5cm (2.2 inches), 7cm (2.8 inches), 9cm (3.5 inches)
Four pom pom makers included
Easy to use
Turns your favourite yarns into fun pom poms
Perfect for adding lovely pom pom embellishments to your designs
Pom Pom Maker 4 Pack
Product Number - 6202651000
Rated

5

out of

5
by
Katy51
from
Pom Pom maker
Brilliant item, should have bought them years ago. Makes pom pom making so easy done in minutes! Recommend this product to any knitter/craft person. Worth the money
Date published: 2017-12-13
Rated

5

out of

5
by
Heather67
from
Good value, easy to use
These were an impulse purchase, inspired by a beautiful display in my local store of a Christmas wreath and a childhood memory of enjoying playing with pom poms. I was surprised how easy they were to use and in no time I had a pile of different sized pom poms which meant I could attempt making a wreath of my own. The clear instructions mean children could use this product and my mum found it good exercise for her arthritic fingers. Brilliant value for something which will provide hours of fun.
Date published: 2018-11-20
Rated

3

out of

5
by
AJ90
from
Does the job
It does the job, but I'm on my third set as the white plastic latch keeps flicking off and/Or breaking.
Date published: 2018-12-19
Rated

5

out of

5
by
Transcend
from
Great idea.
I was So Pleased when my Hubby bought me these. We looked online first. I had been making pompoms the old fashioned way. My Husband thought it painful to watch. Its so easy this way. All four sizes are Fab, I love the little dinky one its so cute. Pompons are so quick and easy to make. Instructions are clear for the pompom maker. You just wind the wool around and there is no fiddling about with lengths of wool to pull through. Wind it round firm and neat. On each side, then tie in the middle and hey presto... Best ever idea. There are so many other idea's to use pompoms for. I love it. I would not be without it now.. I would definately recommend it to everyone. It will make a great gift for all ages...Have Fun...
Date published: 2018-04-05
Rated

5

out of

5
by
Craftgirl78
from
Quick and easy to use
Saw these pom pom makers and decided to give them a try. They are good value for money giving you 4 different sizes. I found them easy to use and can make pom pom up quickly. I would definitely recommend to crafters.
Date published: 2019-06-24
Rated

5

out of

5
by
Sheila1955
from
easy to use
Bought this item to be able to make pom poms with my 2 grandchildren. Much easier for the 3 year old to handle than the traditional method that I had previously used. The 8 year old loved it as well.
Date published: 2019-04-07
Rated

5

out of

5
by
JH77
from
So much easier than cardboard!
I've made pom-poms using cardboard rings since I was a child and thought there was no other way to do it. Then I saw these, and thought I'd give them a go. So much easier to wind the wool as I don't have to push it through an increasingly small hole. Just wind each half circle with the sections open. Then clip together, cut the wool and tie. So much quicker, and don't need to cut new cardboard circles for each pom-pom. Result!
Date published: 2017-11-24
Rated

4

out of

5
by
Sam4
from
Great Product
I recommend this product as its easy to use, and comes in different sizes, me and my 3 year old have been making PomPoms all afternoon! Great price too. Very pleased.
Date published: 2019-04-10
Rated

5

out of

5
by
CraftyRose
from
Never have pompoms been so easy!
Thank you, Kirstie, for the tip; this makes pompoms in a fraction of the time of the old traditional round and round the cardboard! Am a total convert!
Date published: 2017-12-08
Rated

5

out of

5
by
Nik37
from
Ideal little gadget
Perfect, I needed this for a winter hat and it was easy to use, sturdy and produced a lovely pom pom. Very pleased.
Date published: 2017-12-24
Rated

5

out of

5
by
Angela57
from
I'm a convert to the pom pom maker
I thought about buying a set of pom pom makers quite a few times but I couldn't see the point of paying for these when I could make them using cardboard circles. Well, now I know why I should have bought them earlier. Using these pom pom making is quick, easy and fun in fact so much so that I've bought a second set and I've arranged a family craft day in a couple of weeks to make Christmas pom pom wreaths.
Date published: 2019-11-14
Rated

4

out of

5
by
MrsCraftyMac
from
Pompoms galore!
It was my first time using one of these and i did find it a little fiddly trying to hold them together at first but it is soooo much easier than the cardboard way and now I am throwing pom-poms together left right and centre in the blink of an eye! So handy and super easy once you get the hang of it. Note to self: do not let your toddler get anywhere near them again though, they snap pretty easily :(
Date published: 2019-12-11
Rated

5

out of

5
by
Pomsy
from
Pompom makers
Really easy to use. Grandchildren aged from 4 years to 11 years have all managed to make pompoms.
Date published: 2019-04-06
Rated

5

out of

5
by
JazzyG
from
A great present
I have to admit I was a bit sceptical of these pom pom makers to begin with as they looked fairly cheap and flimsy but my sister wanted them for Christmas so I bought her them. They turned out to be one of her favourite presents as she spent the majority of the day filling the tree with pom pom baubles! They were very easy to use (almost too easy) and worked very well. Couldn't recommend these more!
Date published: 2017-01-10
Rated

5

out of

5
by
les123
from
Excellent
Very easy to use, produces a very neat and tidy pom pom needing only a little timming
Date published: 2019-07-26
Rated

4

out of

5
by
Bikergirl63
from
Easy to use
Makes great pompoms and very easy to use, even my grandchildren could use it
Date published: 2017-12-17
Rated

5

out of

5
by
Jewels22
from
Excellent product
Bought one of these, had to buy another every one wants it
Date published: 2017-12-10
Rated

4

out of

5
by
RedRidingHood
from
Great Tool
These pompom makers are a great addition to any crafters tool bag. I was able to make uniform size pompoms without too much trimming afterwards. I have deducted one star because I feel the catches on the sides are a little flimsy and will probably snap after a few more uses. They're not held on by anything other than a couple of "bumps," so they have a good chance of displacing
Date published: 2020-11-09
Rated

4

out of

5
by
Federation
from
A good product for keeping the children happy and productive.
The Pom Pom makers are simple to use and fix easily together to begin the craft. My grandchildren, all 5 of them between ages five and nine, had a very creative day and made several different size pom poms with minimal adult support. A little help is needed to cut around the circle to finish it off. It's easy to tie pom poms together to form characters and maybe glue on eyes, ears or wings to make a special toy of their own design. An additional larger circle would be better than the very small one, which is a bit fiddly to use.
Date published: 2019-05-30
Rated

4

out of

5
by
Salb1
from
Quick pom-poms!
I needed a pom-pom for a hat I was making and these came up on a search. Visited my local Hobbycraft and asked the difference between their four pack and a more expensive brand. I was told that they used them and not a lot of difference. I can't comment on more expensive ones but these do the job and so much quicker than old cardboard circles. Only slight negative is the little white clips to join back up do tend to slip off (I just remove them until I need to join the semicircles). Despite this I would certainly recommend them.
Date published: 2019-03-13
Rated

5

out of

5
by
Melinda21
from
Pom Pom
If you ever made Pom Poms when you were a child, you will love these, so easy to make no cutting out round bits of card and trying to get ball of wool through. Well done to inventor. Easy to use whatever your age 7 or 100, very additive in a good way, ideal gift for any age. Excellent price. Skill level hard to say as you very quickly go from Beginner to Expert :)
Date published: 2019-05-25
Rated

5

out of

5
by
Pumpernickel
from
Great Gadget
Where has this wonderful gadget been all my life? I bought it on a whim in anticipation of having to cut cardboard circles to make pompoms again, which is a job I heartily dislike. I wish I'd known about these pompom makers before - they are wonderful. It's so easy to produce perfect results - time after time! Now I'm looking for more pompom projects!
Date published: 2020-10-06
Rated

2

out of

5
by
Lolab161
from
Not as handy as I was hoping
In theory thus seems like a great idea, but once the two pieces are open to commence pom pom making, you have to hold them together whilst trying to wrap the wool around. A tiny adjustment to the clips to keep them closed while you work, would make these 5 stars. My little girl found it difficult, but once started it was faster than the cardboard method
Date published: 2019-11-05
Rated

5

out of

5
by
Marstersgirl
from
So quick and easy to use
I had been told by friends that getting a pom pom maker would be much easier than the old fashioned cardboard route. Wow, they weren't wrong. So quick and easy to use I was making pom poms in no time at all. Having different sizes in the same packet is also great as it covers all my needs. Would definitely recommend.
Date published: 2019-10-14
Rated

5

out of

5
by
Dali67
from
Pom pom maker for granddaughter a big hit!
I'm not that old, but I used to make pom poms out of cardboard circles - how times have moved on! My nine year old granddaughter is producing loads of pom poms for Christmas, attaching them to scarves I have made and for tree decorations - a brilliant, time saving invention. She loves it and is now teaching her mum!
Date published: 2020-11-17
Rated

4

out of

5
by
Caroline07
from
okay
It took me a while to work out how to use the pompom maker despite the instructions on the back of the cardboard. I had one failed attempt but was subsequently successful. I feel that the instructions need to be more explicit and in a larger format. Perhaps the inclusion of an instruction sheet would be helpful.
Date published: 2018-07-27
Rated

4

out of

5
by
Motley47
from
Quick Pom-poms
Our grandchildren wanted to make Pom-poms and these modern "looms" proved to be a very quick way of making them. The only downside is that when you place the tie loop on you have to ensure that you pull it tight so that it gets over the humps otherwise the thing falls apart when you remove the framework.
Date published: 2016-12-10
Rated

5

out of

5
by
Bunny24
from
Amazing product
I was unsure about getting these as usually I just cut out cardboard and make Pom-poms like that. When I got home after buying these I ended up spending the rest of the evening making amazing poofy pom-poms! They make the process so much quicker and are really easy to use!! I definitely recommend them.
Date published: 2019-11-23
Rated

4

out of

5
by
SeaGreen
from
Better than cardboard!
When I was young my dad taught me how to make pom poms out of two doughnut shaped pieces of cardboard, but when I decided I wanted to start making pom poms again for craft purposes I didn't want to waste cardboard making each one. There are more expensive ones available but I didn't really want to pay more than £5 for four and although I haven't tried the others these are perfectly adequate. One of the catches did pop off one the first time I used it but it clipped straight back on again and they do the job well
Date published: 2017-11-28
Rated

5

out of

5
by
Maggie07
from
So easy to use
I bought these to make pom poms for babies hats I've made for my daughter. Tried making pom poms the old fashioned way with 2 bits cardboard but trying to go round and round and Tring to get wool through I gave up. Buying these pom pom makers I now have a good choice on what size to make.
Date published: 2018-07-23
bvseo_sdk, dw_cartridge, 18.2.0, p_sdk_3.2.0
CLOUD, getReviews, 11ms
reviews, product