Click To Zoom
Click To Zoom
Click To Zoom
Click To Zoom
Click To Zoom
Click To Zoom
Click To Zoom
Click To Zoom
Click To Zoom
Click To Zoom
Click To Zoom
Click To Zoom
Click To Zoom
Click To Zoom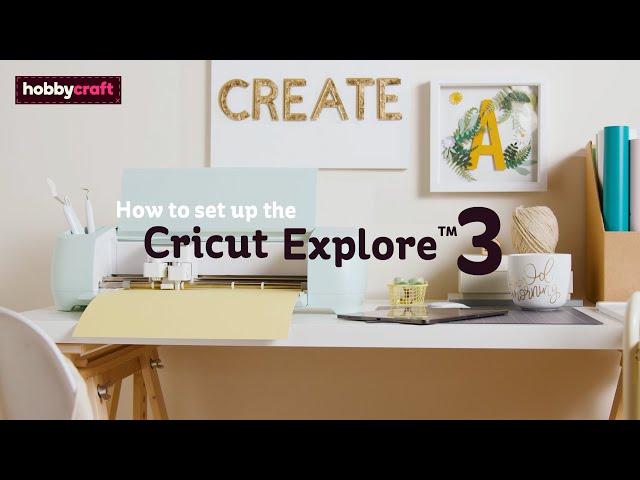 The Cricut Explore 3 brings you personalisation faster than ever! The Cricut smart cutting machine brings you digital cutting, drawing, scoring and foiling at the push of a button.
Easy to use, this machine opens up a whole new world of creative possibilities, with the ability to cut over 100 different materials. Use it with craft favourites like cardstock, vinyl and iron-on, as well as more specialty materials like vellum, cork and bonded fabric. It's also compatible with Cricut Smart Materials for super-easy, long cuts up to 3.6m without a cutting mat.
Whether you're crafting iron-on custom clothing, personalising accessories and décor with vinyl decals or designing the perfect gift, this dream machine will get your projects done in record time. The Cricut Explore 3 cuts two times faster than the Cricut Explore 2's fast mode (up to 8 inches per second) when using Smart Materials.
The Cricut Explore 3 uses Bluetooth technology to connect with Cricut's free Design Space app via iOS, Android, Windows or Mac devices. Use the app to create and personalise your designs, ready for the machine to bring them to life.
There are six different tools available (separately) for cutting, writing, scoring and foiling. The fine-point blade is included with your machine.
Size: 24 x 24 x 61cm (9.4 x 9.4 x 24 inches)
Maximum cutting width for Smart Materials: 29.7cm (11.7 inches)
Maximum cutting width with a mat: 29.2cm (11.5 inches)
Includes Cricut Explore 3 machine, premium fine-point blade and blade housing (pre-installed), accessory adapter (pre-installed), quick start guide, USB cable, power adapter and power cord and material for test cut
Cuts, draws and scores
Use with Design Space for iOS, Android, Windows and Mac
Cuts more than 100 materials including paper, cardstock, vinyl, HTV, posterboard and more
Two times faster than the Cricut Maker and Explore Air 2(when using Smart Materials)
Compatible with Cricut Smart Materials for long, continuous cuts without a mat
Can cut designs up to 12 feet long with Smart Materials
Compatible with roll holder (available separately)
Features expanded storage cup
Print-then-cut capability on white and coloured materials
Perfect for personalising custom clothing, décor, accessories, gifts and more!
Cricut Explore 3
Product Number - 6556901000
Q&A
The Explore 3 is ideal for crafters who wish to make their papercraft projects more intricate, as well as for creating personalised vinyl and iron-on designs. The Cricut Maker comes with an additional rotary blade for working with fabric-based projects, as well as for working with heavier and thicker materials. The Maker features all of the functionality of the Explore 3, with a more powerful cutting system.